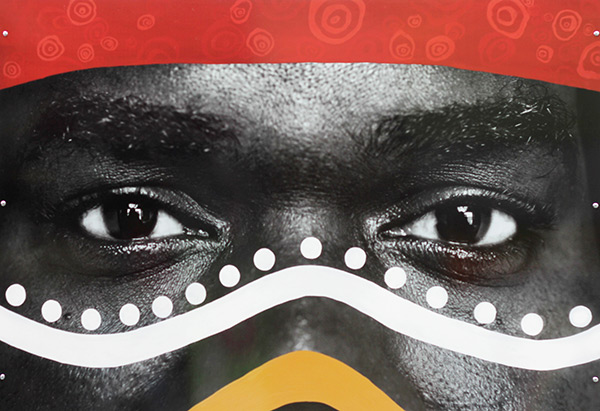 Tribal
60" x 40" Archival injet on canvas with ochre applications.
Photograph by Murray Hall. Collaborative art by Deborah Bonar. Portrait subject, Jacob Emmanuel, St Lucia.
The story
People of many cultures paint their faces and their bodies. This may be for hunting, ceremonial or religious reasons, to make themselves attractive, or as warriors preparing for battle.
Tribal people use face painting to transform themselves for rituals, to show their status, to camouflage themselves for hunting, or to scare their enemies. They often used natural earth pigments, along with plant dyes, for face and body painting.
The subject of this photograph is a man from Saint Lucia in the Caribbean. It is a close-up shot, with his eyes being the only features shown.
I have used the four Aboriginal ochre colours, black, white, yellow and red on this canvas, because these are the traditional base colours used in my culture. I have used a minimalist approach, because so little of the subject's face is on view. I have given him a red headband with very simple circular motifs.